Autumn & Fall Beauty Essentials For Your Skin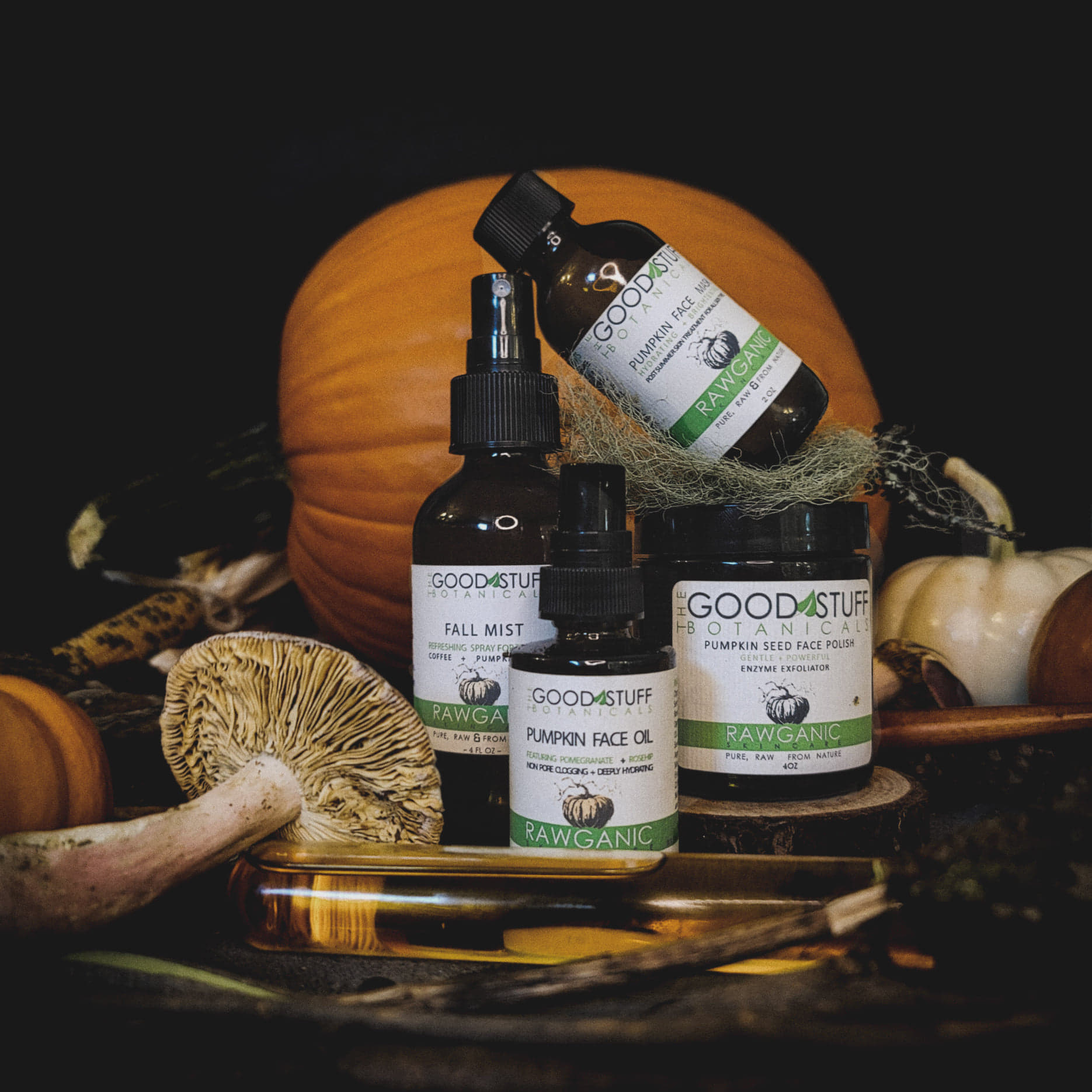 Skincare for the Seasons
As the seasons change, our skin's needs also change. Temperature, wind, UV, and humidity are environmental elements that can have an impact on our skin. The sudden drop in temperature and humidity can leave skin feeling, dry, rough, and lifeless. Heaters on full blast can also affect the skin's moisture levels. Dry skin can become prone to redness, irritation, and breakouts. Want to revamp your routine? Here are some fantastic fall skincare essentials from The Good Stuff Botanicals' autumn facial collection. You gotta check them out!
Pumpkin Face Polish
Pumpkins are packed with alpha-hydroxy acids or fruit enzymes that naturally exfoliate the skin. This exfoliating pumpkin face polish contains raw pumpkin seeds and organic cane sugar, alongside other beneficial ingredients that can slough off dead skin cells, releasing grime and dirt that have built up. It stimulates cell renewal, boosts circulation and lymphatic drainage, increases collagen production, and is a great skin detox that'll leave you looking youthful and glowing. It allows for future products to absorb into the skin more effectively and efficiently.
Pumpkin Face Mask
Want deeply hydrated and silky-smooth skin? Use this pumpkin face mask that contains plenty of natural and nourishing ingredients. Copper, Vitamin C + E, and fatty acid content in coconut milk help to reverse free radical damage and deliver anti-aging benefits. Coupled with a concoction of anti-inflammatory chamomile and calendula, silica-packed horsetail, marshmallow root with high mucilage content, anti-aging elderberry flowers, and witch hazel tannins, your skin will certainly get the tender loving care it deserves.
Fall Facial Mist
A coffee-infused facial mist is a fuss-free remedy to have on hand, as it can gently refresh and protect your skin throughout the day. Nourishing aloe vera juice and inflammation-reducing witch hazel quench your skin's thirst for hydration while a gentle blend of floral waters balances your pH levels. A spritz is all you need to soak up the benefits of tannins and plant compounds.
Pumpkin Face Oil
Achieve deep hydration without clogging your pores with this pumpkin face oil that's formulated with oils that benefit all skin types, from aging to acne-prone. Pomegranate oil has high levels of linoleic acid for balancing sebum levels, and punicic acid, with excellent antioxidant and skin-protecting properties. Both acids work especially well in the fall when our sebum production is kicked into overdrive due to the extra dry air. Like pumpkin oil, rosehip oil is rich in vitamin A but also boasts plenty of astringent properties that help brighten your skin and tighten your pores, allowing you to maintain that toned summer look.
Get Beautiful, Fall-Friendly Skin with The Good Stuff Botanicals
The Good Stuff Botanicals has got your fall skin care routine covered. All of our products are formulated using age-old, tried, and tested recipes with GMO-free, organic ingredients sourced from their indigenous origin. We do not use any sulfates, parabens, alcohols, fragrances, dyes, and chemicals, which is key to achieving healthy skin. Feel free to browse through the range of seasonal fall products, or contact us to find out more.