The Incredible Benefits Of Pumpkin Face Oils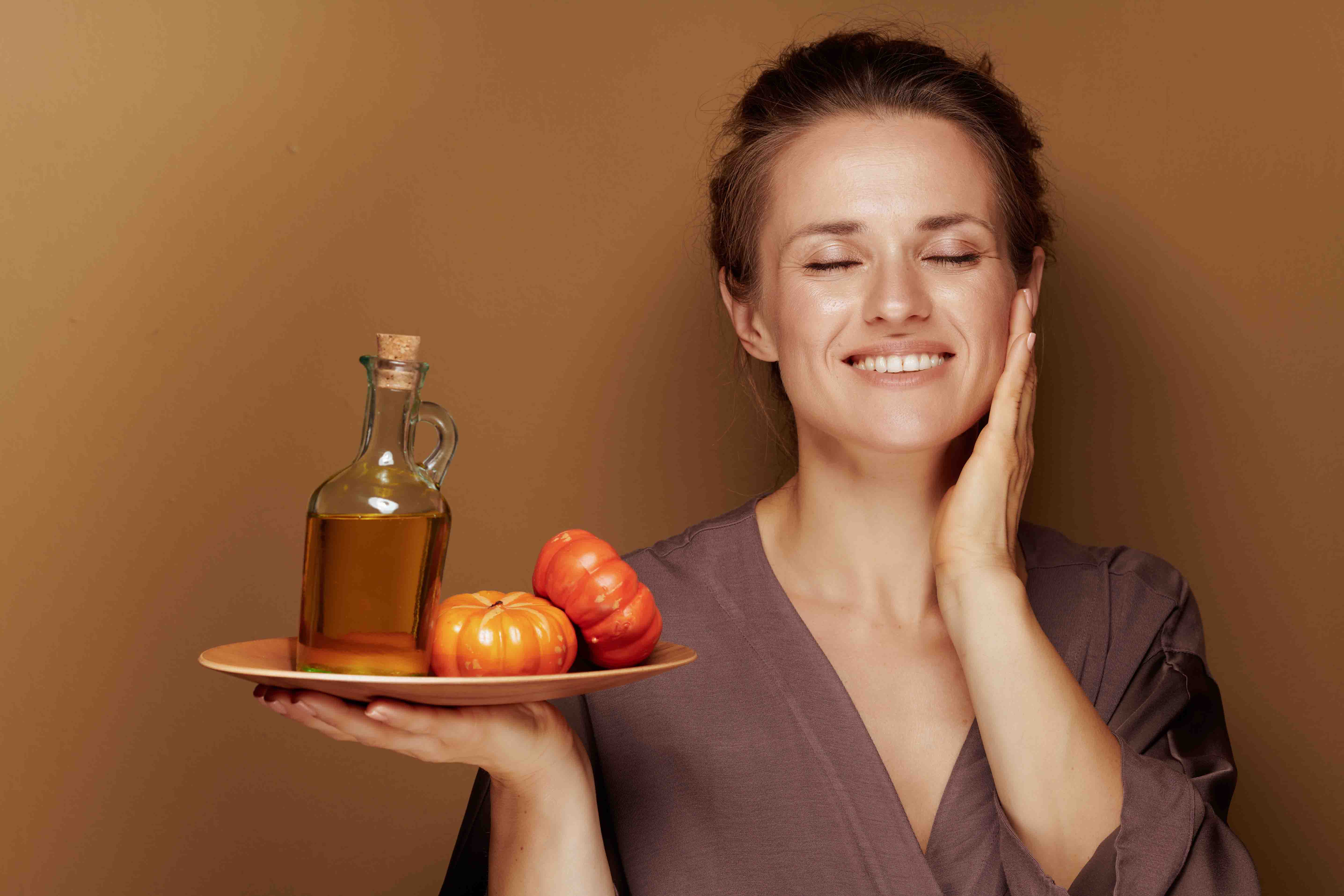 Pumpkin face oils are poised to become the hottest new beauty product. If you are looking for an oil that can help balance your skin, you should definitely incorporate pumpkin face oils into your skincare routine. Not only does it work well for acne-prone skin, but it is also full of naturally occurring ingredients that'll give you glowing skin all year round. Here are some incredible pumpkin oil benefits for the skin you need to know.
What Is Pumpkin Seed Oil?
The key ingredient in most pumpkin face oils is pumpkin seed oil, which is derived from hulled pumpkin seeds, typically through cold pressing. It contains nutrients that benefit both overall health and skin, including vitamin C, zinc, fatty acids, tocopherols, carotenoids (antioxidants), sterols, and magnesium.
Helps With Skin Renewal
If you are concerned about dry, aging, or damaged skin, a pumpkin face oil is the product for you. Regular application helps to firm up aging skin and reduce the appearance of wrinkles, sun spots, and fine lines. Pumpkin seed oil contains large amounts of zinc and vitamin C, which go hand in hand to support cell renewal and the production of collagen, helping the skin retain its firmness and elasticity.
Reduces Free Radicals
Vitamin C and vitamin E are powerful antioxidants that help protect your skin from environmental elements through the reduction of free radicals. The skin is penetrated by essential fatty acids that retain and increase moisture levels while leaving no greasy residue behind. When combined with its antioxidant properties, they aid in the regulation of oil in the skin and help maintain a youthful appearance.
Reduces Acne-Induced Inflammation
You can also use pumpkin face oil if you have acne-prone skin as the unsaturated fatty acids it is packed with can soothe inflammation and redness.
Choosing The Right Pumpkin Face Oil
Want deep hydration without clogging your pores? The Good Stuff Botanicals' pumpkin face oil has got you covered. It is formulated with different oils that benefit all skin types, be it aging to acne-prone skin. Pumpkin seed oil aside, this product also contains vitamin A-rich rosehip oil, which boasts plenty of astringent properties that help brighten your skin and tighten your pores, as well as pomegranate oil, with its high concentration of linoleic acid for balancing sebum levels, and punicic acid, with excellent antioxidant and skin-protecting properties. This works especially well in the fall, when drier and more erratic temperature conditions threaten to dry out your skin and kick your sebum production into overdrive.
Reap The Benefits of Pumpkin Face Oil with The Good Stuff Botanicals
If you're looking to give pumpkin face oils a try, The Good Stuff Botanicals has the product you need. Every single one of our products is formulated using age-old, tried, and tested recipes with GMO-free, organic ingredients sourced from their indigenous origin. We do not use any sulfates, parabens, alcohols, fragrances, dyes, and chemicals, which is key to achieving healthy and youthful skin. Feel free to browse through our product line, or contact us if you have any questions.